Thursday Jun 30, 2022
Episode 15 - Masters of VGM III - Fighters, Legends, Kingdoms (Yoko Shimomura)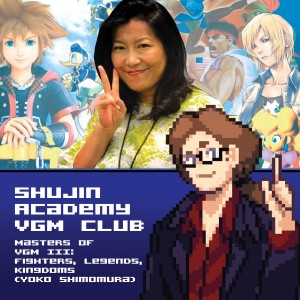 All your favorite VGM podcasters are doing a series called "Masters of VGM", where we do episodes devoted to our favorite video game composers. For my third entry into this series, I'm doing a career retrospective for Yoko Shimomura, best known for her work on the Kingdom Hearts series.
Special thanks for this episode goes out to: 
–Bedroth of Very Good Music and everyone else who's set up the Masters of VGM project and all the podcasters who are participating. You can follow the project's Twitter account @mastersofvgm or visit their website at mastersofvgm.com to see all the participating podcasts and episodes released to date.
–Jameson of the BARSlience podcast for the art for this episode. Find his excellent podcast on Twitter @BarSilenceVGM or wherever you get your podcasts.
Thanks to BokiBokiPixelArt for the show logo. You can find him on Twitter @BokiPixelart. 
If you like the Live A Live and Front Mission songs, and want to hear some more music from Square's golden age that we didn't get here in the United States, check out the "Square Over There" episode of the Singing Mountain podcast. You can find it at https://singingmountainpod.com/episodes/60-squaresoft-japan-podcast. 
If you want to reach me, you can email me at shujinacademyvgmclub@gmail.com. You can find me on Twitter at @ShujinVGMClub, and on Instagram at ShujinAcademyVGMClub. Please leave me a five star rating on iTunes or Spotify or wherever you're finding this episode.
Track Listing:
00:00 - Show Tagline
00:05 - Kingdom Hearts - Dearly Beloved
01:16 - Talk Segment 1
03:54 - Code Name: Viper - Password
06:52 - Final Fight - Bay Area
08:57 - Street Fighter II - Ryu's Theme
10:59 - Street Fighter II - Guile's Theme
13:00 - Talk Segment 2
14:48 - Breath of Fire - Trade City
16:56 - Live A Live - Under the Fake
18:13 - Live A Live - Wait for Truth
20:00 - Front Mission - Canyon Crow
21:39 - Front Mission - Setting Up
22:52 - Front Mission - Coaxial Town
24:33 - Front Mission - Field Hospital
25:54 - Front Mission - Arena
27:06 - Super Mario RPG: Legend of the Seven Stars - Barrel Volcano
28:48 - Super Mario RPG: Legend of the Seven Stars - The Road is Full of Dangers
30:24 - Talk Segment 3
32:12 - Legend of Mana - Song of Mana (Opening Theme)
34:59 - Legend of Mana - Legend of Mana (Title Theme)
37:20 - Parasite Eve - Missing Perspective
40:00 - Parasite Eve - Somnia Memorias
45:56 - Talk Segment 4
49:16 - Kingdom Hearts - Destiny Islands
51:04 - Kingdom Hearts - Traverse Town
52:24 - Kingdom Hearts - Hand in Hand
54:48 - Kingdom Hearts II - Scherzo Di Notte
56:05 - Kingdom Hearts II - A Walk in Andante
56:59 - Mario & Luigi: Partners in Time - Main Title
57:58 - Mario & Luigi: Bowser's Inside Story - Dr. Toadley
59:13 - Final Fantasy XV - Omnis Lacrima
1:03:37 - Xenoblade Chronicles - Main Theme
1:07:17 - Outro Talk Segment
1:08:27 - Streets of Rage 4 - Shiva